I'm going to start this one off by saying that 48 hours in Hamburg isn't nearly enough time. When I was originally looking at what there was to do in the city, I didn't think there would be a single day worth of activities. Now I want to go back for a month!
Getting to Hamburg
Hamburg is the second-largest city in Germany, located just south of Denmark. There's an international airport, including direct flights from the USA with United. Unfortunately, none of the budget airlines within Europe fly to Hamburg, so it might be cheaper to get a flight to another nearby Germany city such as Berlin or Cologne and then use Flixbus for the last leg of the journey.
As part of my Christmas Market Tour of central Europe, I traveled to Hamburg from Cologne. Instead of a bus, Flixbus became Flixtrain! It was the same company (green and very late), but the cabins were surprisingly comfortable. The ride was only a couple hours, but there were six fold-down beds available for a longer trip. With plenty of legroom, wifi, a snack bar, outlets in all the cabins and lots of space for baggage, the ride was far more comfortable than any Flixbus.
The Flixtrain to Hamburg travels along one track starting in Aachen, Cologne and Dusseldorf, but regular Flixbus routes come in from all over Europe. There are plenty of other bus companies going into Hamburg, but I rarely find them cheaper than Flixbus.
If you're only planning to spend 48 hours in Hamburg, I'd highly recommend getting the Hamburg Card. This will give you free transportation throughout the city and up to 50% discounts to most of the attractions. The Hamburg Card is available for up to five days and will save you loads. An all-day metro ticket costs €7.90 ($8.80). Conversely, a 2-day Hamburg Card costs €19.40 ($21.55), and you can save the additional $5 on your first attraction.
Accommodations in Hamburg
Overall, Hamburg is a rather cheap city for accommodations. The cheapest hostels are only $11 a night, and most of the best hotels are under $200 a night. With well over 600 hotels, guesthouses and hostels to choose from, there's an option for everyone.
Knowing which part of Hamburg to stay in is important. As usual, the city center has more expensive hotels. The next neighborhood to the west is called St. Pauli. This is the district that has the red-light street of Hamburg but is also known for its bohemian lifestyle. You'll find a lot of street art here, and also some of the coolest places to stay.
Superbude Hotel and Hostel
There are two Superbude hotel/hostels in Hamburg, one in the city center and one on the edge of the St. Pauli district. I stayed at the latter in one of their private rooms. As far as boutique accommodations go, this one is simply amazing! If you're the kind of person who doesn't like hostels or has never stayed in one, Superbude will completely change your mind about them. Their 89 rooms have been designed with all the comforts of home in mind. Although I can't personally review the dorm rooms, the private room is spacious with a king-size bed, a large bathroom with a rain shower, and a giant TV (which I'd never use in a hotel but some people like it).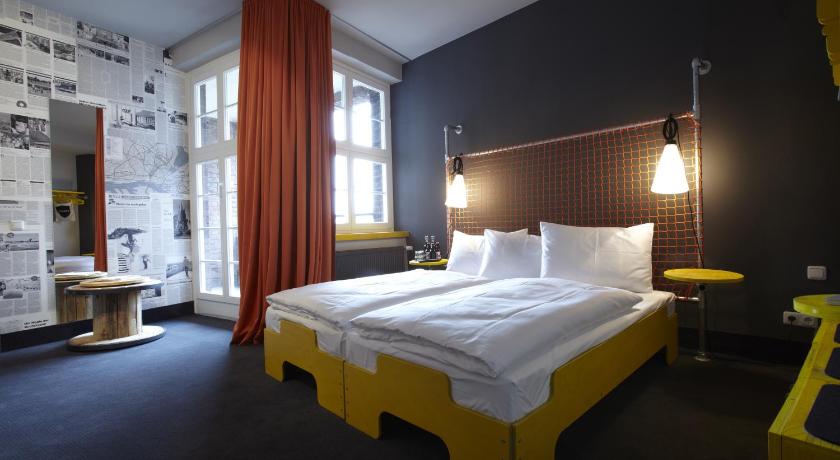 The common room was my favorite part of the hotel. There were well over a dozen comfy tables for me to sit at and work with high-speed internet, not that I had any time to work with only 48 hours in Hamburg. I particularly liked the design of using old denim jeans for upholstery. In the morning, a fabulous buffet breakfast was served, featuring meats and cheeses, homemade hummus, dips and sauces, a waffle maker, pastries, yogurts, cereals, fruit, juices, and an espresso machine. I believe breakfast is the most important meal of the day; Superbude made sure I was super fortified before I started out each day.
Click here to book your stay at Superbude.
Best Food in Hamburg
For years, I assumed the most popular food in Hamburg was the hamburger. I was wrong. It seems fish is their top cuisine, but hamburgers are still way up there. I only got to have four meals in my 48 hours in Hamburg, other than our two breakfasts at Superbude, and one of those meals was a quick snack at a cafe as I rushed between attractions. Obviously I can't report on all the thousands of places to eat at across the city, but here are the three that I did try out.
Bok Restaurant
I got off the train late Tuesday evening. Not knowing any better, I decided to find a good hamburger restaurant to see how Hamburg ranked as the possible birthplace of this meal. Unfortunately, all the hamburger restaurants around my hotel had just closed their kitchen as I arrived. After walking around for several minutes, I ended up at Bok, one of the few restaurants still open. I was happy to go with Asian, even after a rather upsetting incident in Amsterdam involving too much sushi.
Bok is a Japanese and Thai fusion restaurant. Now, one thing I've found traveling the world is that it's nearly impossible to find Thai food in other countries as good as they make in Thailand. Bok thoroughly proved that wrong. I had the tom kha gung (coconut soup with shrimp) and a side of salmon avocado sushi. First of all, I was shocked that my plate actually looked better than the photos in the menu.
Simply put, the quality was perfect. Of all the places I ate at in Thailand, perhaps only the Iron Chef-managed Siam Wisdom matched the quality of Bok. The prawns were perfect, there was just the right level of spice (very hot), and the soup itself made me want to book a ticket directly back to Thailand. Even the sushi was surprisingly good (compared to scores of sushi restaurants I've visited in my travels).
Otto's Burgers
The next day, I went to see just how good the hamburgers in Hamburg really were. Just because they aren't the most popular dish doesn't mean they aren't great. While there might be a controversy over who invented the hamburger (USA or Germany), the word does derive from the city of Hamburg. That's why I had to get one while I was there. After an extensive search on Google Maps, I chose Otto's Burgers. There was a branch near my hostel, but I went to the one in the center of town instead.
As I arrived, my attention was immediately caught by an ad for the raclette burger. For those who don't know, raclette is a Swiss-made cheese that comes in a huge wheel which is then cut in half and heated so that melted, gooey cheese can be scraped off and put in a sandwich or, in this case, a hamburger. If that sounds divine, it is! I had my first raclette sausage at the Edinburgh Christmas market a few years ago. The raclette burger at Otto's was even better. I had my burger with a side of sweet potato fries and left the restaurant far more satiated than I'd been in a very long time.
Brücke 10
Finally, I went to try out the fish sandwiches that Hamburg considers its top dish. On the recommendation of the tourist board, my destination was Brücke 10 on the harborfront. They had several types of fish on the menu. As usual, I went with salmon. My sandwich had the largest chunk of salmon I've ever been served in a sandwich. So yeah, Hamburg is definitely king when it comes to fish sandwiches and you absolutely have to try one when you visit!
Attractions in Hamburg
Before I planned our trip to Hamburg, I honestly had no idea what there was to do or see in the city. Now that I've been, I'd say that 48 hours in Hamburg isn't nearly enough time. If, however, that is all the time you've planned for this city, here are some of the attractions you can squeeze into your schedule. I did manage to get to all of these within my two days, but it wasn't easy.
Chocoversum
One of my favorite attractions in Hamburg, and actually one of the best museums I've been to in the world, was Chocoversum. Little did I know that Hamburg is the second-largest port in Europe (ninth in the world), and they import a huge amount of chocolate. Germans love chocolate and consume an average of 22 pounds of chocolate a year, the equivalent of 91 chocolate bars.
To encapsulate the trade and process, Chocoversum takes you through every step of chocolate production from the harvesting of cacao beans all the way to the final packaging. The museum is fully interactive, in that you can actually taste the chocolate at each step of the process, although it's only the final product that actually tastes like chocolate. I was one of the brave souls that tried the raw cacao bean. All I have to say about that experience is I have no idea how someone figured out the way to process chocolate from it.
Another great part of Chocoversum is the chance to make your own chocolate bar. At the beginning of the tour, we were all given a bar of liquid chocolate and had a couple dozen toppings to choose from. I think we all went a little overboard with our toppings; half of mine didn't even fit into the chocolate.
There is at least one English tour every day, although the times vary. Tickets are about $21.50 with a 20% discount if you have the Hamburg Card.
Read my full article on the Chocoversum here.
Miniatur Wunderland
I don't honestly know which attraction I liked better – Chocoversum or Miniatur Wunderland. Both were incredible. At Miniatur Wunderland, they've built the largest model train in the world – a staggering 10 miles of track winding through 16,000 square feet of model cities containing over 50,000 figures.
For a full visual tour of Miniatur Wunderland and the rest of the statistics, check out my full article.
Elbphilharmonie
Another key attraction in Hamburg is the Elbphilharmonie, also known as the Elphi. This structure is one of the largest and most acoustically advanced concert halls in the world. What's more, the design is extremely unique, made of glass and situated atop an old warehouse building on the harborfront. As such, it's up there with the Sydney Opera House and the Verona Arena as one of the best concert venues in the world.
Getting a tour of the Elphi isn't easy, and tickets can sell out for weeks in advance depending on the date you're trying to go. To guarantee entry, you can book an advance ticket to visit the plaza. The entrance is free, but there's a $2.20 administration fee for the advance ticket. If you're lucky, you can show up on your day and try to get in without an advance ticket.
You also have the option to watch a concert at the Elphi, which is something I sadly didn't get a chance to do. Tickets to the concerts are anywhere from free to $60, and these do often sell out too.
Free Walking Tour
I always say that the first activity you should do in a new city is a free walking tour (so I don't know why I'm listing this fourth). The center of Hamburg is fairly compact and easy to explore by foot, although there are other districts like St. Pauli which also should be explored. There is a free tour of the city center by Sandemans New Europe Tours. I don't want to spoil all the stops of the tour, but suffice to say, there were several spots I didn't even know existed and probably wouldn't have found without the tour. I certainly wouldn't have gotten all of the information about the city and its history without our guide.
One spot on the tour I found really fascinating was the St. Nikolai Memorial, a Gothic Revival Cathedral built in 1195, destroyed by a fire in 1842, rebuilt in 1874 (at which time it was the tallest building in the world!) and again destroyed in the bombings of World War II. If you have time, you can take an elevator up the tower for a great panoramic view of Hamburg.
Sandemans also has a tour of the St. Pauli district for $16.50. As I'm a lover of street art, I definitely plan to take that tour when I return to Hamburg, hopefully in the near future.
Harbor Tour
Another great way to explore Hamburg is by ship. Along the harbor, there are several tours leaving every day. These boats ply the Elbe River and talk about how Hamburg is the second-largest port in Europe… Well, I think they do. I was accidentally put on a German-speaking tour, so I didn't actually understand anything that was being said by the tour guide. But I did get to see the various apparatus of the port, which really is comparable to Rotterdam (the largest port in Europe), as well as the landscape out to Altes Land.
Christmas Markets for the Holidays
Finally, if you happen to be visiting Hamburg at the end of the year, I can't recommend the Christmas markets enough. Christmas markets originated in Germany (Dresden to be specific) and they definitely set the standard. Whether you go through just for the eye candy or want to pick up some Lebkuchenherzen (German gingerbread hearts) and Glühwein, you're sure to get a warm feeling in your heart. You'll get all kinds of tasters, you can watch woodcarvers, there are local clothes to purchase, and more types of sausages than you can imagine.
Check out my article on the Christmas markets in Cologne to get an idea of what you might find in Hamburg. Unfortunately, with all the other activities that I did in my 48 hours in Hamburg, I didn't actually have that much time to explore their Christmas markets, which was a shame as that was a key reason I was traveling through Germany!
Budgeting for Hamburg
Hamburg isn't as cheap as Berlin, nor is it as expensive as Munich. Hostels are as little as $11 a night, while the hotels average about $100 a night. You can get a meal at an inexpensive restaurant for about $10, although there are plenty of options around town (like kebab shops) where a meal is under $5. Our lunch at a cafe on the second day only cost us $5 each. Drinks vary a lot: a cappuccino is about $3 and a beer is about $4. Don't ever purchase the small bottles of water for $2 as the tap water in Hamburg is really good.
If you're a solo backpacker on a tight budget, I'd estimate you could get by on $20 a day but you'd have to walk everywhere and stick to the free attractions. If you're looking for a bit more leeway in your spending, consider budgeting $40 a day. If you're traveling as a couple and want to stay in a decent hotel, you'll be looking at closer to $200 a day.
Itinerary for 48 Hours in Hamburg
I'll admit, it was quite a struggle to squeeze in all these attractions into just two days. I was actually there for a little less than 48 hours. Make sure to check the schedules of each attraction for the days that you go, as the English tours in Chocoversum and the Harbor Cruises change each day. For time frames, the cruise lasts an hour, the Chocoversum tour is 90 minutes, it takes about 30 minutes to explore the Elphi plaza, the free walking tour is 3 hours, and I'd say Miniatur Wunderland takes minimally 3 hours to explore, although you could easily spend the entire day there as if it was an amusement park.
If you're visiting in the summer, you'll have the benefit of more daylight hours. In the winter, sunset is around 5 p.m. and the opening hours of some of the attractions are shorter too. On some days, Miniatur Wunderland is open until midnight. If you can, try to schedule that as an evening activity since it's indoors (you can even eat dinner there at their cafe). From the list of attractions I've given, I think the harbor tour is the only one that could be skipped. If I were you, I wouldn't leave Hamburg until I'd made it to the rest.
If you're looking for more activities, check out this article about spending 48 hours in Hamburg by the Silver Nomad.
Further Reading
Here's some extra reading to save hundreds on your next vacation or stage of your journey.
Disclaimer: I was given complimentary tickets on behalf of Visit Hamburg. As always, all views and opinions are my own.
Affiliate Disclosure
This post may contain affiliate links. These links help give me the wherewithal to continue traveling at no additional cost to you. For more information,
click here
.